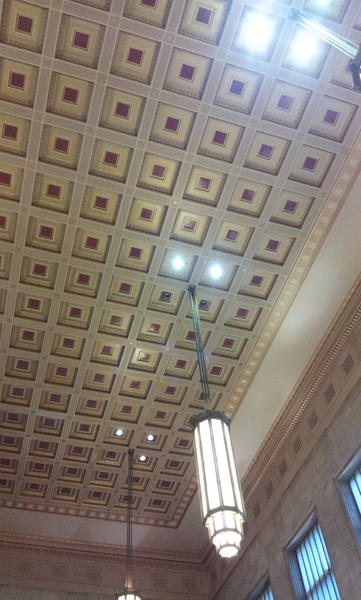 I went off to the wilds of Philadelphia where, admittedly, I am never keen to go. It's just not one of my favourite cities. Not sure why. But I needed to be there for NoirCon and it was certainly the place to be to promote Weird Noir —
— hey, for which we got a nice review today.
I'm also over at Welcome to My World of Dreams, who also gave me a very nice review of Unquiet Dreams! 🙂 Part of the Tirgearr Blog Tour where you can win valuable prizes!
Oh, yeah — back to Philly. It started out at PhilaMoca, a really interesting venue if a bit creepy to get to through dark streets and vacant lots. Heide Hatry performed and showed off her art in the venue. Strong stuff — vegetarians, turn away now — like her performance 'Skin Room' which we saw playing behind her while she spoke about her background, growing up on a pig farm in Germany where she was trained to be a butcher from the age of 6. She said she had been told that her more 'feminist' works might not go over well with this audience (in keeping with her theme, NoirCon is a bit of a sausage fest), so she showed the video for 'Expectations' rather than perform it live. 'Also, it is messy,' she added. Hatry spoke in the morning too more directly about noir, as well as the difficulties of finding a cow vagina ('much harder than you would imagine') and of traveling with a deer face. Her works from 'Heads and Tales' and 'Not a Rose' were on display both at PhilaMOCA and then at the Society Hill Playhouse where most of the events took place. She actually constructed a 'flower' during her performance Thursday night. Fascinating if somewhat gruesome work. It was a treat to see some of those hardboiled authors wincing.
Friday panels included 'Career in C Minor' which featured Wesley Stace (AKA John Wesley Harding) and S. J. Rosen talking about music in their noir writings with Cullen Gallagher. Stace was persuaded to sing since some of his work was directly inspired by Jim Thompson and he has a new historical crime novel. Rosen used to be an architect, so it was fascinating to hear her talk about how her work is different. The panel on 'Good Country People' gave a convincing history of so-called Southern Gothic as simply noir in the south. 'The Movie was Better' offered a chance to talk about how increasingly influential television especially and film are on writers. Crime has taken over television it seems at times.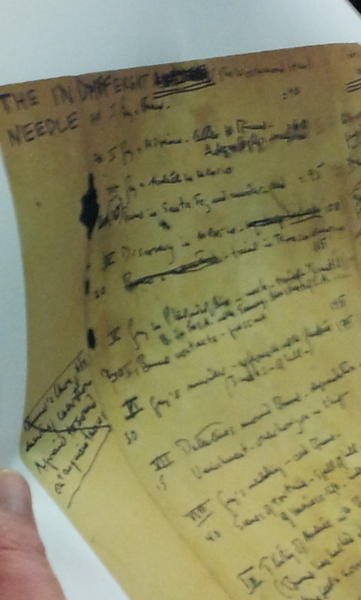 The 'Double Trouble' panel offered the unexpected bonus of seeing Maya Deren's always lovely Meshes of the Afternoon since Robert Polito chanced up on the house where it was filmed (and still looks much the same) and made a good argument for its noir props. Joan Schenkar demonstrated that her fantastic and seemingly comprehensive biography of Patricia Highsmith didn't cover everything — there's more! She shared color photocopies of Highsmith's outlines which were amazing, which inspired her to do a map chart marking where people get killed in Highsmith's novels and where her lovers lived. Eeep! A lot of overlap there.
Jeremiah Healy interviewed the legendary owner of Mysterious Books (and publisher, writer, etc.) Otto Penzler. I got a bit of a surprise last week when Penzler bought one of my stories out of the blue for a new anthology Kwik Krime that Amazon will be publishing. Pleased for sure! Penzler's whole story is fascinating and he had a grand time telling stories with his sardonic wit.
I think I will hold off on Saturday until I have a little more time. Other write ups can be found including the advance coverage and the controversy about the program cover illo (well deserved
the cover was…just inexplicable), although there was some good stuff on the inside, including a little piece from Mr B.
Oh, and Todd stood me up.