Christmas Split Single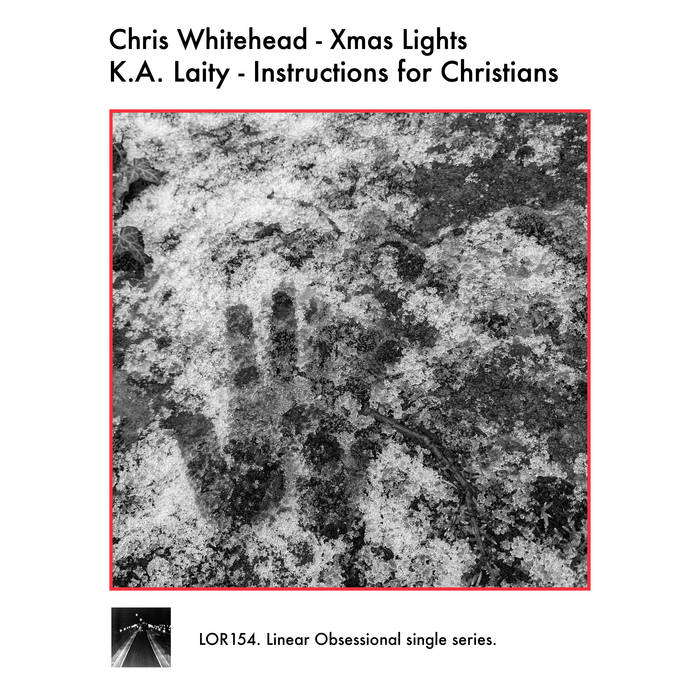 Digital AlbumStreaming + DownloadIncludes unlimited streaming via the free Bandcamp app, plus high-quality download in MP3, FLAC and more.

Download includes two front covers and one back cover by David Little, plus 9 location photographs by K.A.LaityBuy Digital Album £0.75 GBP or moreSend as Gift
about
The Linear Obsessional Christmas Single is the 7th in the series of download singles (2 sides, single length, no music). A split single featuring Northern English sound artist/ musician Chris Whitehead and author, scholar, critic, editor, and arcane artist K.A.Laity. On one side you will hear an electromagnetic recording of Christmas Tree lights cycling through their flashing sequences.
The other side is a field recording made on a cold day in Berne, NY featuring "Instructions for Christians" in the original Old English.

Download includes two front covers and one back cover designed by David "smallhaus" Little featuring photographs by the artists., and 9 colour location photographs by K.A.Laity
Happy Christmas!
credits
released December 21, 2020
Side A – Electro-magnetic recording by Chris Whitehead December 2020
Side B – Field recording by K.A.Laity, December 2020
Cover designs by David Little
Background:
This came about because Richard mused aloud on Twitter about the idea of doing a Christmas single. You may recall in the past Linear Obsessional has done a bunch of collections of 2 Minute recordings that I took part in. So I pitched the idea of doing some Old English reciting — because you know I will at the drop of a hat — and he said yes. I am delighted to be half of this split single. Chris' recording is a fascinating sound texture that's almost tactile and redolent of this time of year that seems to get more and more electric (batteries not included!).
The 12th century text I chose I first learned about from A Clerk of Oxford who posted this wonderful compendium of wisdom poetry in Old English about five years ago and also runs the Old English Wisdom Twitter account. You can read the whole of the text here, which comes from Old English Shorter Poems: vol. I, Religious and Didactic, ed. Christopher A. Jones (2012). Of course I went out to Universal Pathways and recorded near the cave on the river (fortunately the limestone cliffs blocked the machinery from the next farm over!).
So what's a pagan doing offering a recitation of 'Instructions for Christians'? I like to think that I am following in the footsteps of the Jewish songwriters who wrote the best Christmas songs. Perhaps it's easier to have perspective from the outside. Besides, I slipped in some favourite lines from another poem for the Solstice:
Hal wes þu, folde, fira modor!
Beo þu growende on godes fæþme,
fodre gefylled firum to nytte.
Hale be you, earth, mother of mortals!
Ever may you grow in god's grasp,
Filled with food useful for folk.
Enjoy! And yes — that is my handprint on the altar in the grove at Universal Pathways.