Of course I have an interest in noir that overlaps with the supernatural–even if it's just an element that the protagonists are at pains to discredit as quickly as possible. Probably best known for her novel Mischief, which became the film Don't Bother to Knock, Charlotte Armstrong has unconventional approaches to crime fiction that make her stand out from a lot of the more popular mid-20th century writers.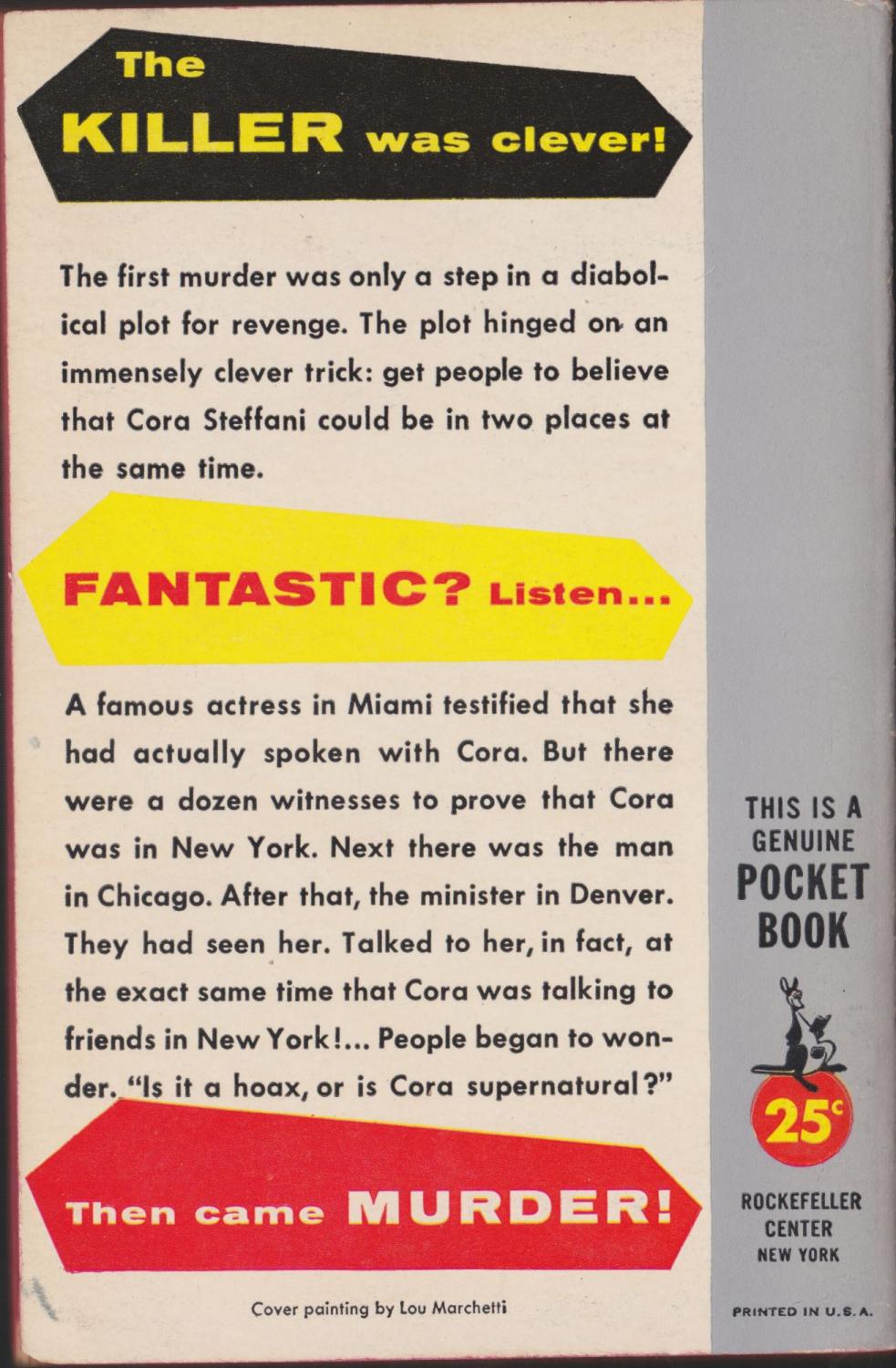 The story is narrated by Olivia Hudson, who mostly seems to want to back away from life, talking into a tape recorder after the events have passed. Abandoning the stage, she had become a teacher but maintains a foot in Broadway life–and an unrequited yen for Charley Ives. Of course they're thrown together to unravel a mystery that threatens their mutual 'uncle' and power-behind-the-throne D.C. insider John Paul Marcus. The scars of the war are still fresh (1955) but there's a paranoia, too, that bad apples are going to turn everything that's good on its head. Olivia muses on the power of The Big Lie: 'Even now when you don't have to believe the lie any more, it's hard enough, isn't it, to believe that any one would have gone to so much trouble.'
At first she and other dismiss the apparent astral projection as a kind of parlour trick: a seven day wonder that will be forgotten, instead of an ingenious, complicated and fiendishly cynical plot. That it involves women — particularly actors — makes it even more suspect. Much of the tension comes not from 'whodunnit' but from the attempts to stick too closely to rationality without the leap of imagination. When Cora the Dream Walker becomes witness to a murder the stakes rise quickly–and the theories: 'Cora was in league with the Devil. Cora was a witch. Modern science is always rediscovering truth in old wives' tales. There were witches after all. And this settled it.'
Fun to read and very inventive structure. Some quotes:
People didn't have to believe the nonsense. Doubt was enough. Doubt, for most, is exactly the same thing as condemnation.
How precious a thing it is to meet everywhere an assumption that you are most probably decent and normally intelligent. If this is lost, you are left in the loneliest kind of place, a world without any fellows where you find no peers and don't belong.
'Coincidence means only a connection that's not seen. Roots meet underground. And hope is creative…'
Bonus points, too, for quoting my favourite line from Richard II, which I also pilfered for Owl Stretching.