Some days are a lot harder than others. In the midst of even more bad news that Iain Banks is terminally ill and after the unexpected death of Rick Hautala last week, so many writers I know are simply reeling lately. Friends mourn of course, but readers who never met them anywhere except between the covers of a book mourn, too. Stories open us up to new people and experiences.
They're not always happy experiences.
When I first read Clive Barker's Weaveworld I remember thinking, "How could Cal forget?" How could he forget the wonder he had seen, the world weaved into that seemingly innocuous carpet? Being much older now, I understand it all too well — how the world grinds us down and how we can lose that precious sense of wonder.
Writing is one of the best ways to hold onto that, but drawing, singing, dancing — they all do it. Creating. Write it all down. It's a way of keeping hold of the quicksilver life that flashes past us all too speedily. Even more importantly, it gives voice to the worlds that lie inside us waiting to be born. No one else can give them life. You have a unique point of view. Don't worry if the story is old (all stories are old). No one else has your voice. Give voice to your story and then dare to release it to the world.
You may only find two or three people who want it, but you might also find a hundred or a million. It doesn't have anything to do with the quality of what you write; it's got everything to do with the zeitgeist. No one knows where that will go next. No one. But even if your audience is only yourself, do it. Make those worlds, live those lives, hold onto the precious seconds that tick by all too quickly.
Otherwise we allow ourselves to be anaesthetised by easy distractions. Lynda Barry evokes this so vividly in What It Is, when she remembers how self-consciousness crept over her and the girl who danced and sang and drew and laughed became the teenager who turned to stone in front of the television.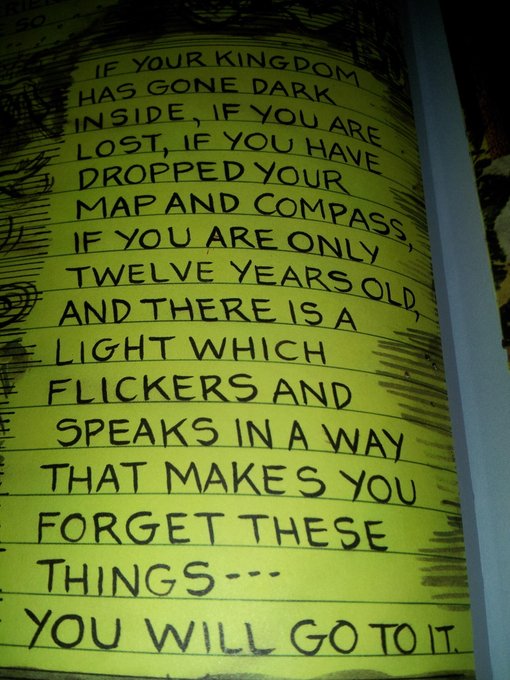 Don't let go of that sense of wonder.
*************
NEWS
I'm over at Jill Edmondson's blog today talking about my visit to the International Spy Museum. I was also just at Heart of Fiction talking about Lush Situation.
Fear and Learning: Essays on the Pedagogy of Horror is out at last and includes my essay, "Raven's Eye View: Teaching Scopophilia with the Films of Dario Argento."
My flash fiction story "Homework" appears in the latest Necon collection, Best of 2012.
My review of Dana Fredsti's Plague Nation is over at A Knife and A Quill.
Still free: Just Desserts collects a bunch of recipes from folks at Tirgearr Publishing.
And my column over at Ms. carries on a discussion begun here.
Plus there's my humorous essay "How to Succeed in Academia" in the Vonnegut tribute collection, So it Goes. The days are just packed.